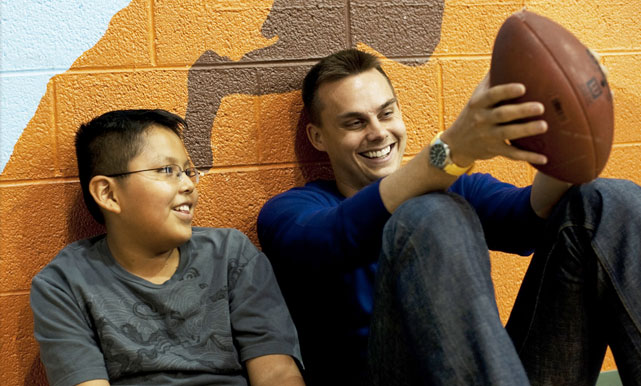 Become a Mentor
LET'S START SOMETHING BIG
Mentoring changes the trajectory of young lives, our programs continue to grow stronger every year. Through time things may change but our mission remains strong…..to provide every child who needs a mentor with a mentor!!
HOW CAN YOU HELP???
Call and Become a Mentor We have many different programs, there is always one program that is the right fit for you! (Mentor, committee member, board member etc)
Direct Donation What can your donation do? A lot more than you think!! All donations large and small help support our programs.
Legacy Giving This is becoming a popular way for donors to ensure sustainability of a cause the is close to their heart. A legacy gift is simple to make and can offer significant tax benefits.
Lunch 'N' Learns If you would like us to come out and meet with you and your staff to talk about the benefits of directing donations to Big Brothers Big Sisters of Cape Breton, we would be happy to arrange a presentation.
Program Sponsorship We provide a variety of mentoring programs for children and youth. facilitated by the generous support of individuals, foundations and businesses. We are always looking to establish new partnerships to expand our programs in Cape Breton. Ask us about our MATCHMAKERS sponsorship program.
Third Party Events and Employee Fundraising Got a great idea for organizing an event that could help raise money for Big Brothers Big Sisters of Cape Breton…or maybe a company raffle? Think BIG and your ideas could help some more children get a Big Brother/Big Sister!!!
Workplace and Employee Mentoring Opportunities Do you employ passionate, creative and talented individuals who could make a difference in a child's life? Big Brothers Big Sisters of Cape Breton is always looking at ways to partner with businesses to help our local children
Francine Hall BA BSW Executive Director Big Brothers Big Sisters of Cape Breton 700 Victoria Road Sydney, NS B1N 1J2 Tele: 902-564-5437 Fax: 902-564-9971 Web: www.bigbrothersbigsisters.ca/capebreton